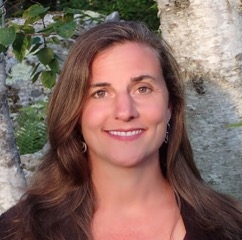 405 Stockbridge Road,
Great Barrington, MA, 01230
ph: 413.644.0171
email: [email protected]
website: movement-matters.com
Life's twists and turns can lead to feeling stuck on a path that doesn't feel good. Maybe you are struggling with a particular problem or just have the sense that you're not quite moving through your life the way you'd really like to. I help people who want to feel more at ease with themselves and find more joy and fulfillment in their relationships and pursuits.
I combine "talk therapy" with holistic approaches including mindfulness, movement and creative arts along with contemporary findings from neuroscience to help my clients make profound changes and live with more peace, purpose, and a sense of feeling truly like who they really are.
I have experience and a special interest in working with adult and young women, particularly on issues of navigating life transitions, reducing anxiety and depression, resolving trauma, developing creativity, improving body image, coping with chronic pain or illness, and sustaining substance abuse recovery as well as issues related to supporting pregnancy, postpartum and motherhood.
I also offer support and consultation to therapists, using a holistic approach to help professionals do work they love without burning out.
Please visit my website to learn more.
Credentials:
20 years experience as clinician, educator, consultant and supervisor
Licensed Mental Health Counselor (LMHC)
Board Certified Dance/Movement Therapist (BC-DMT)
Certified Substance Abuse Counselor (CADC)
Sensorimotor Psychotherapy (SP), (Level 2)
Specialties:
Women's Issues
Trauma, PTSD
Life Transitions
Body Image
Anxiety
Depression/Mood Disorders
Pregnancy/Postpartum/Motherhood
Eating Disorders
Chronic Pain/Illness
Creativity
Substance Abuse Recovery
Therapeutic Modalities:
Holistic
Mindfulness
Body-Centered Therapy
Sensorimotor Psychotherapy
Creative Arts Therapy
Dance/Movement Therapy
Strengths Based
Stress Management
Integrative Therapy
Populations:
Adults
Young Adults
College Students
Adolescents
Insurance(s) Accepted:
I don't work directly with insurance companies, but you may have insurance benefits that allow you to work with "out of network" providers. I can provide a statement with the needed information to submit for insurance reimbursement when this is the case.
Professional Involvement:
Chair, American Dance Therapy Association Continuing Education Subcommittee
Member, ADTA Standards and Ethics Committee
Regular presentations at national and regional conferences
Author, "Returning Home: One Woman's Journey from Depression to Joyous Living using Body-Centered and Creative Approaches in Dance/Movement Therapy", a chapter in The Use of the Creative Therapies in Treating Depression (2015).